Hunt 72 - Mauritius Rusa Deer, Wild Boar & Ocean Fishing Retreat
Here is a truly unique offering which not only incorporates hunting and fishing, but a great getaway for couples in a private and off the beaten path setting. The island nation of Mauritius is located off the coast of southern Africa. It is easy reached through Paris and a US Passport is the only visa required. English and French are the spoken languages.
This locale offers beautiful landscapes and pristine beaches. Hunting here is for the Javan Rusa Deer and wild boar. These hunts are spot and stalk or driven hunts in the European style. The stags are of world class proportions and the ocean fishing in this region is outstanding.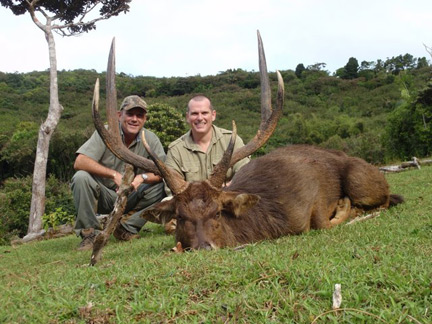 This hunt is a great opportunity for couples who travel or groups. The pricing is quite reasonable, especially when comparing this to resort locales like Hawaii, and New Zealand. I can customize packages for hunting and fishing, touring, and the like.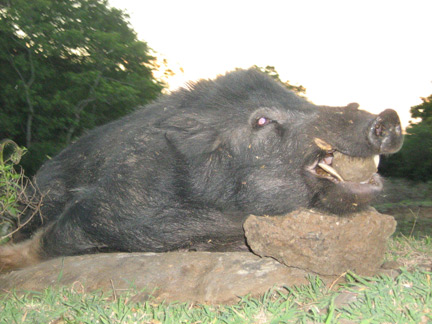 Lodging ranges from 3 stars to 5 stars depending upon preference. Firearms and licenses are furnished in the hunt packages.  Breakfast and dinner is not included in these listings but can be arranged. Otherwise this is a turn key trip.
.
If you are looking for a friendly location offering very private place away from the crowds where you can combine hunting, fishing and some of the finer things in life, look closely at Mauritius. This would also make a great add on to a trip already planned in southern Africa.    
Hunt Prices:
Some PossiblePackages in Euros:
7 days for 1 hunter/1 non-hunter, lunches provided: 3300 Euro, 2 days hunting, 1 Gold Medal Rusa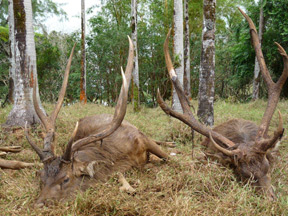 7 days for 1 hunter/1 non-hunter, lunches provided: 4100 Euro, 2 walk and stalk hunts, 1 driven hunt: includes 1 gold medal Rusa, 1 management Rusa, 1 hind, 1 wild boar     
11 days for 3 couples, lunches provided: 2100 Euro, 3 hunters/3 non-hunters, lodging on the coast or river, 3 gold medal stags, walk and stalk hunting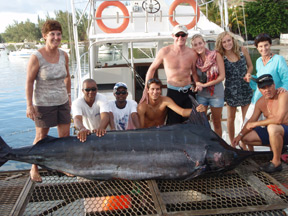 15 days for 3 couples, 3 traditional hunting days and 2 driven hunting days, 3 gold medal Rusa, 3 management Rusa stags, 3 hinds, 3 wild boar, lunches provided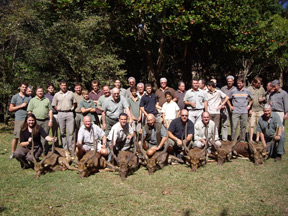 *All hunts include hunting license permit fees, firearms and ammunition, guides, lodging, trophy preparation in the field, airport pick up, meet and greet. Not Included: Breakfast and Dinner/ Taxidermy/ Trophy Shipping/ Sport Fishing and personal touring