Argentina & Chile Big Game, Upland Bird, Waterfowl and More
After many year of searching for the right outfitter in South America, we finally found one. This outfitter offers a comprehensive hunting program incorporating all native and introduced species in the region. Whether you want a high volume bird shoot, free range Red Stag, a private estate hunt or a mountain hunt in Chile, he truly has it all.   
Hunts are generally on a day rate and trophy fees for the game you take. This outfitter is about quality and provides a first class experience with excellent lodging, food and hospitality. With three different locales to hunt, one can combine species or even get in some fishing.
With direct flights on major carriers daily to Buenos Aires, travel is quite simple. This is a great destination for corporate groups, a companion and/or family.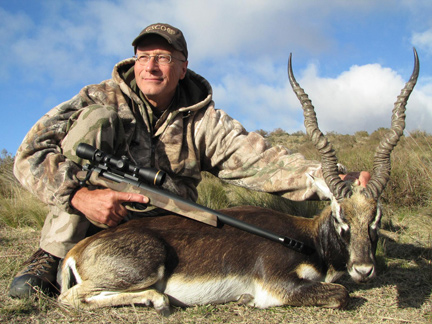 Other Fees:
*Car Transfers $800-$1500(Depends on locale) split among the group/Conservation fees on Native species $200-$400 per animals depending upon the species/Hunting Licenses $150
 Bird Hunting Rates:
Doves $400 per day, Pigeons $580 per day, shot-shells $14 per box, Gun rental $60 per day
Waterfowl Package Hunt - $2400 Party of 4 or more
Includes all lodging, ground transport, guided hunt, food, laundry service and additional dove and pigeon shoots, 4 days duration from Buenos Aires
*Some species require special export permits/Trophy Shipment is additional.
Hunt Prices:
Day Fees- 1x1 $500 per day, 2x1 $400 per day, Non-hunters $250 per day
Red Deer $3500, Capybara $1000, Blackbuck $1150, Fallow $1900, Axis $1900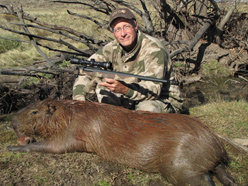 Scottish Ram $900, Dorset Ram $900, Puma $3000, Water Buffalo $2800, Goat $700
Collared Peccary $1200, Mouflon $3000, Boar $800, Brown Brockett $1800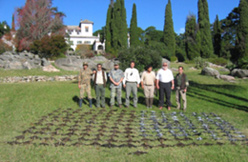 Tahr, Pere David, White Lipped Peccary POR