Hunt 66 - Campeche Mexico Ocellated Turkey, Brockett Deer, Tropical Whitetails and More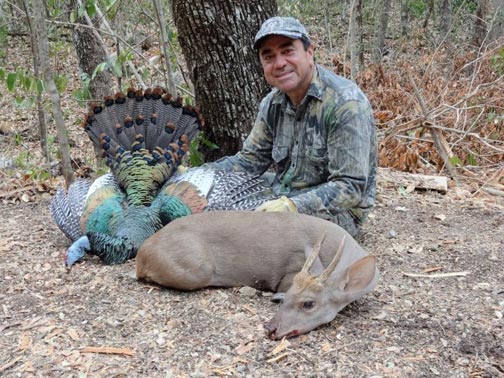 With daily flights from Houston, Texas this hunt has become a destination of great interest for hunters on a quest for their turkey slam. Beyond the turkey hunting the jungles of Mexico are home to other unique game. Species like Brockett deer, Greater Curasow, Peccary, Puma and others offer the travelling hunter some interesting options when considering this hunt.
These are jungle camps with mesh tents or cabins with few amenities. They are well run and comfortable despite appearances. This is a great adventure over and above the actual hunt.  There are three hunting regions offered to include a late fall/winter hunt for tropical whitetail deer as well. 
DATES: December – March/ Fly to Del Carmen or Merida airport pick up $300 per group each direction
*Shotguns are the primary weapons used on these hunts. (Exception Tropical Whitetails)
*Recommend using the outfitter's firearms
*US Turkey import requires a letter from a USDA approved taxidermist   
Hunt Prices:
OCELLATED TURKEY (7 DAYS) $2,500, (tag/license $350/Gun rental $150 *All Hunts)

OCELLATED TURKEY, GREAT CURASOW & CRESTED GUAN (7 DAYS) $3,500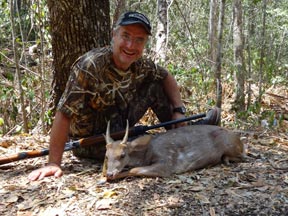 FOREST COUGAR & BROCKET DEER (7 DAYS) $4,000

WHITE LIPPED PECCARY (UPON AVAILABILITY OF PERMITS) (7 DAYS) $4,500

OCELLATED TURKEY & BROCKET DEER (7 DAYS) $3,500/OBSERVER $1,250

DATES: March – May/Fly to Campeche for pick-up (Included in rates)

TROPICAL WHITETAIL DEER (7 DAYS) $ 2,500 (tag/license $500/Gun rental $150)