Hunt 63 - Quebec Caribou and Musk Ox Hunts
This is a small outfitter located in the far northern region of Quebec. Unlike most operations here this outfitter is very small taking only 5-6 hunters per week, not 150 or more. This outfitter personally oversees all operations and helps coordinate smooth arrivals, departures and organized hunts with solid success. Quebec has undergone many changes over the years as well as threats to close this hunting resource. Despite the issues occurring in some outfitter areas this outfitter is holding his own and still able to produce quality animals.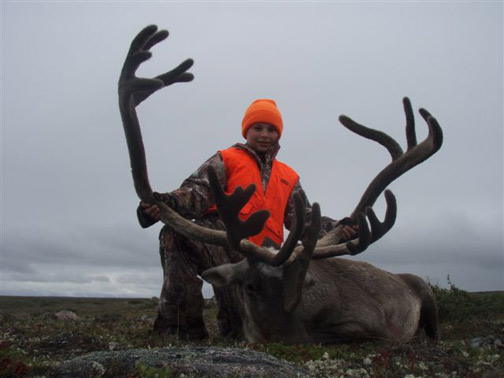 With caribou offerings and one of the few outfitters offering Musk Oxen Quebec this is hands down one of the best choices still for the Quebec Barren Ground subspecies. The outfitter knows his area and how to run an operation efficiently and effectively. I have tried several of the big names in this region and have left with a less than enthusiastic feeling each time.  I am glad to have this limited offering for my customers seeking an experience such as this one.  
All Packages Include:
Round trip airfare from Montreal to Kuujjuaq/Return air charter service to and from camp/reception service in Kuujjuaq to and from camp/all applicable taxes (PST & GST) with non-resident rebate issued/ packages are guided 2 hunters per guide, except Muskoxen hunts are one hunter per guide/licenses related to package booked/fully equipped guide with boat, motor and unlimited fuel/professional trophy preparation of capes & antlers/packing of meat in airline approved tote boxes/shipping of 200 pounds of meat from camp to Montreal/shipping of capes from camp to Montreal/shipping of split antlers from camp to Montreal

Not Included in Packages: hotel accommodations in Montreal/meals in Montreal or enroute/accommodations if required in town due to weather related delays/sleeping bag, pillow case, towels (personal affects)/soft drinks, beer, alcoholic beverages (make prior arrangements)/shipping of baggage in excess of 75 pounds northbound/shipping of meat and antlers to final destination/ taxidermy work/butchering services/gratuities/Travel or medical insurance.

Additional Licenses:
During the caribou hunt, clients are welcome to purchase additional licenses which would allow them to fish or ptarmigan hunt during open seasons.  The costs of the licenses are indicated below and are available at camp and payable by cash.  Fishing License $65.00, Ptarmigan License $85.00, Black Bear License $150.00
Hunt Prices:
 The following rates are per person in US Funds.  A deposit of non-refundable $1000.00 deposit is required to secure your dates and rates. The final balance of the package is due June 1, prior to the hunt.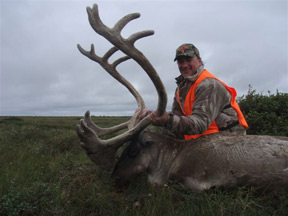 Caribou Hunt Rate:  $7,750.00 August - Oct.01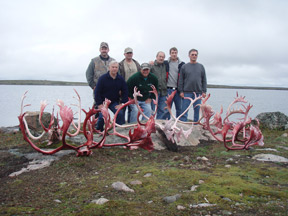 Ptarmigan Hunt Rate:  $6,000.00 Note:  Package also includes airfare for one dog per 2 hunters

Muskoxen Hunt Rate:  $12,500.00 1x1 dates beginning late April through March.  Hunt includes accommodation in Kuujjuaq and while on the hunt, snowmobiles, shipping of cape and horns to Montreal.