Hunt 62 - Trophy South Texas Whitetails
Located less than 2 hours south of San Antonio, this venue offers the trophy whitetails this region of Texas is famous for. This outfitter believes in quality game management and is actively involved in trying to produce the best habitat and hunting he can.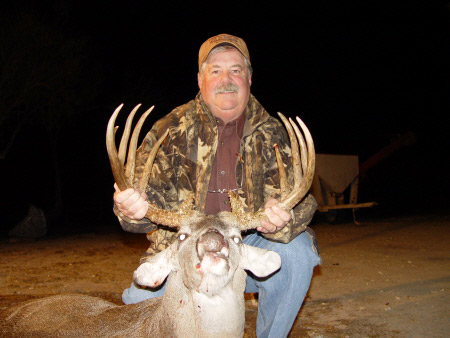 Accommodations are not fancy but comfortable. Hunts are 2-3 days in duration and as one outdoor professional who recently hunted there said, "The place is covered up with big deer!"  Hunts are normally conducted from deer stands or blinds and in Texas feeders are often the norm. This is not a physical hunt and is an excellent choice for families and hunters of all ages. Predator hunting is thrown in as part of the overall management plan on this property. This outfitter also believes in our veterans and is a strong supporter of the, "Wounded Warrior Program."

From trophy hunts to management hunts you will find high end quality as well as affordable hunting as well. Texas is always worth the trip and I really enjoy my hunts when I get the chance to go to the Lone Star State.  Do not overlook the turkey hunts and other offerings this outfitter has as well. *Ask about specials and group rates as well.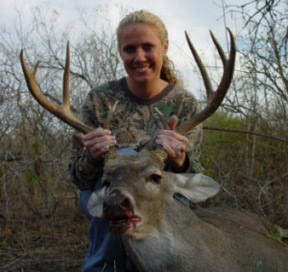 Hunt Prices:
 Economy Whitetail Hunt (approx. 120 to 149 SCI score range)  $2,500-$3,500

(Two hunting days maximum Guides Choice)

(Meals and lodging provided on special request)

Management Whitetail Hunt (approx. 150 to 159 SCI score range)    $5,500\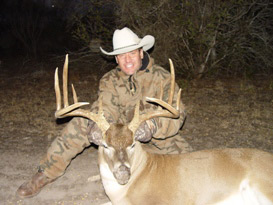 (Two hunting days maximum Guides Choice)

(Meals and lodging provided on special request)

Management Whitetail Hunt Upgrade (approx. 160 to 169 SCI score range)$7,500

Trophy Whitetail Hunt (approx. 170 to 179 SCI score range)   $10,500

Super Trophy Whitetail Hunt (180 to 189 SCI score range)   $12,500

Super Trophy Whitetail Hunt Upgrade (190 to 199 score range)$14,500

(Three hunting days including lodging, meals and guide)

(Deer scoring over 200 SCI are available, price on request)

Barbado Sheep (Full curl or better) $1,000/Russian Boar $750

Rio Grande Turkey (Spring or Fall) $750/ Texas Gulf coast water fowl hunting for Ducks and Geese $250 per day

Morning dove $75 per day/Bob White Quail $200 per day