Hunt # 55 - North Dakota Estate Elk Hunts
These hunts are designed for the client who has little time but wants a quality experience at a reasonable price. Estate hunts are not for everyone, but remain a popular choice with many hunters.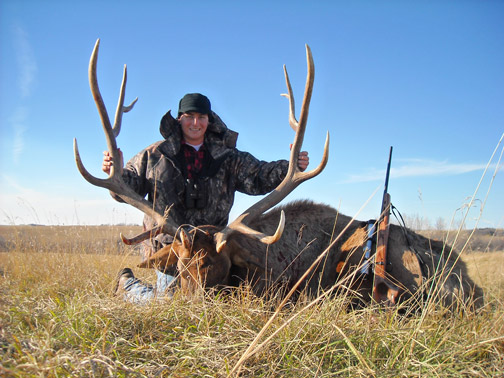 I support all legal forms of hunting and this operation is a well run, ethical venue with owners who care about their land, clients and the wildlife. For those of you tired of competing with hunters on public land, or weary of waiting for untold preference points in a draw this might be an excellent option. It is also a place for the hunter who wants to see some of the largest elk he/she will ever see any place.
I have not ever had a single client come here, even skeptics, and leave unhappy. I have worked with this outfitter and his family for 15 years. With flexible seasons opening in September and closing in January these hunts fit almost any schedule.
Pricing is flexible and includes all licensing and such. Hunters stay in a modest cabin on the ranch which is several square miles of varied terrain and timber. This is not an open prairie hunt. Primitive weapons, hand-gunners and rifle hunters are all welcome. Hunts include food, lodging, trophy care and transport of meat to the butcher. I often run specials for this outfitter so inquire.
Hunt fees are $750 for 3 days. Trophy fees are paid upon harvest or if an animal is wounded and not recovered. There are two pricing options.
Hunt Prices:
Pricing Option #1 (Hunt fees are $750 for 3 days)
270- 349 Bulls $2700-$3490 ($10 per inch increments)
350-369 Bulls $5250-$5500 ($15 per inch increments)
370-400 Bulls $7400-$8000 ($20 per inch increments)
Bulls over 400 $8000 plus $50 per inch increments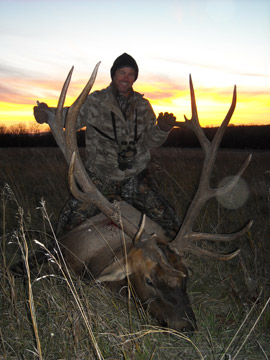 Pricing Option #2 (Hunt fees are $250 per day)
270-300 Bulls $3000                          371-390 $7500
301-330 Bulls $3500                          380-400 $8500
330-350 Bulls $4500                          400 plus $10,000 & Up
351-370 Bulls $5500 

The owners are some of the finest people you will ever meet. This is a fun hunt.