Hunt # 53 - BC Coastal Bear, Blacktails, Roosevelt Elk and Mountain Lions
The coastal region of Southern BC/Vancouver Island has become synonymous with some of the finest hunting for big black bears in North America. This long-term outfitter operates high success hunts for these bears and beyond.
Another highly sought after species this outfitter offers is the Roosevelt Elk. Outside of landowner permits and draws this is likely your best bet to take a trophy animal and have high success. These elk hunts are expensive and are spoken for early. This outfitter has several of the top Roosevelt Elk taken under his belt. Archers and rifle hunters are welcome.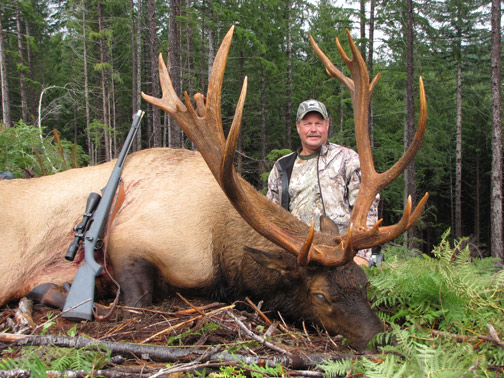 He also offers winter cougar hunting and high quality hunts for the least known and under-utilized Black-tailed deer resource. The Blacktails in this region are still the Columbia sub-species but show some of the characteristics of their Sitka Blacktail cousins further north. These are no-draw rut hunts in November when most other regular Blacktail seasons in the Pacific Northwest are closing.
For those of you after coastal Mountain Goats he also offers a great opportunity. *High fitness levels are required however
This 3,500 square mile hunting territory is accessed mostly by boat or float plane. Most areas receive very little outside pressure. Having the mobility too of a boat allows greater access to the myriad of shorelines, coves and hidden inlets to hunt.
Hunters fly to Vancouver airport and then take a scheduled daily flight to Powell River. Clients driving can leave their car in the Powell River area. In the most southern hunt region there is a short air taxi flight.
Check out the prices of this hunt and look at other outfitters in the area. You will see a lot of value in this hunt with the same quality.
This is an exciting hunting venue you will enjoy.