Hunt # 50 - Coastal Oregon Roosevelt Elk, Blacktails, Bears and More
This long-term outfitter is another upstanding veteran in the Pacific Northwest. He offers high quality hunting foe Roosevelt Elk, Columbia Blacktail, Black bears and the occasional Columbia Whitetail.
Oregon operates off of a varied tag allocation process. There are over the counter regions, special draw hunts, mentored youth permits, landowner permits, and specialized weapons seasons. With all of these licensing opportunities Oregon is often overlooked in favor the other famous Western states.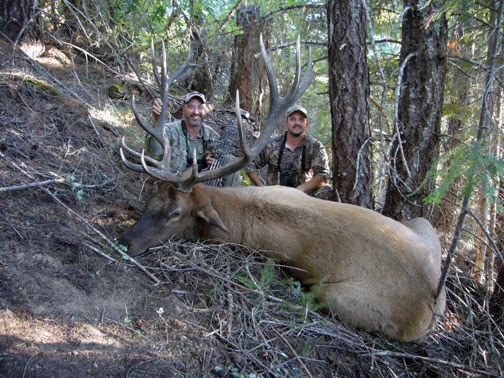 This outfitter has access to holdings on both private and public lands. He is an excellent primitive weapons outfitter with vast archery and black powder experience. There are few places to find quality Roosevelt Elk hunting and in some cases deer and elk hunting can be combined. Black bear hunting in Oregon is spot and stalk only, but high bear densities make this hunt unique and productive in its own right. The bears in this region are well nourished, enduring easy winters and short periods of hibernation. This also translates into big bears of trophy size. Bears are hunted in spring and fall.
Hunts with this outfitter are not fancy, but well run, and highly affordable compared to most. With early and late seasons, there are many hunting opportunities with this outfitter even in December.
You will not find this outfitter splashed all over the Internet. He has no outside advertising and is a small word of mouth, family run operator. If you have a passion for hunting these Northwestern game animals this is an excellent choice.