Hunt # 46 - Florida Big Game & Exotic Hunts
This outfitter offers some exceptional exotic and native species hunts within close proximity of the Tampa area. Hunts are conducted on a large preserve area consisting of native habitat. Hunters have the option of day hunting or multi-day hunts on the ranch with lodging, food and other activities. This is a full service outfitter offering hunting, fishing, and photo tours. Hunters staying on the ranch will be housed in a comfortable log home offering satellite television and air conditioning, or option#2 a beautiful log lodge. Hunts are conducted from tree stands or spot and stalk. This is a great ranch for a family getaway to Florida to see all the attractions and still squeeze in a hunt. Exotic game thrives in this climate and exceptional trophies for certain introduced species can be found.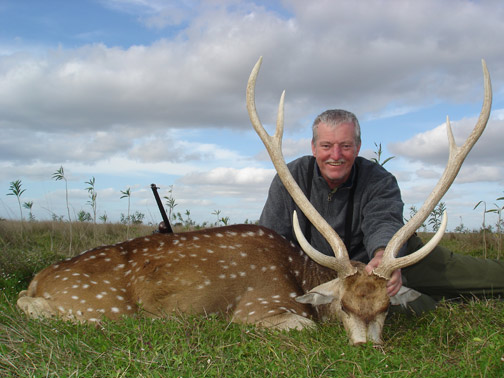 *Special Hunt/Fish for Shark, Alligator and Hogs $2250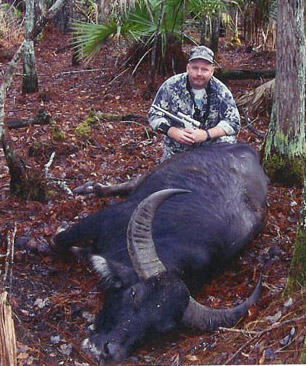 Hunt Prices:
Prices:
 $145 a day includes your guide, transportation, lunch, and trophy care. 
 
 Non-hunting guests are $50 per day.
 
 $225 a day includes all meals and overnight lodging on the ranch, plus the above listed services. 
 
 Non-hunters are $125 a day.
***Hunts are on a trophy fee basis. If a hunter does not take game they will be charged day fees only***
Trophy Fees:
Whitetail deer $995-$3995/Estate Bucks $2000and up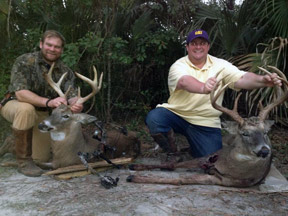 Whitetail does $600

Axis bucks $2000-$2900

Axis does $500
Fallow Bucks $2000-$2900
 
 Fallow does $500
 
 Red Stag $995-$2900
 
 Red deer hinds $450
 
 Exotic Sheep $595-$995
Bull Elk $5500-$9900
 Meat hogs $250
 
 Trophy hogs $450
 
 Osceola Turkey $300 per day
 
 Blackbuck $2000-$2900
 
 Water Buffalo $1695-$2900
 
 Sika deer $2000-$2900
 
Russian Boar $850-$1195
Fishing:
1/2 day for 2 people $90
1 day for 2 people $125-$175

Florida Whitetail $150 per day 6 point minimum
We had a great hunt combined with a family holiday when we visited.