Hunt # 42 - Durango Mexico Gould's Turkey and Coues Deer  
Mexico is a favorite hunting destination of mine. Over the years I have tried to locate great outfitters, sometimes finding them off the beaten path. This is another one of those little known locales offering some of the finest Gould's Turkey hunting anywhere and a completely overlooked and under-utilized Coues deer resource.
Located in the Mexican state of Durango, you can fly privately or commercially to this area with relative ease. There are daily flights from Houston, Texas. This beautiful high country ranch has hosted notable outdoor personalities like Colorado Buck, Knight and Hale, as well as Jack Brittingham.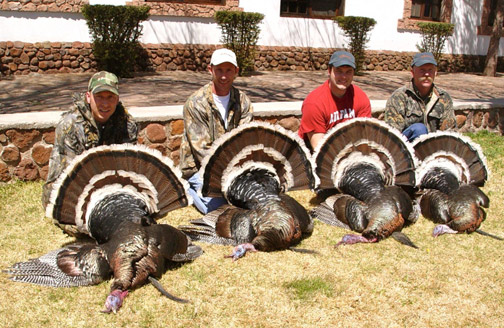 The lodge and the amenities are first class, and so is the turkey hunting. Hunts are 100% successful and options for a second bird are available. The Coues deer hunting is really something that is a work in progress simply because Durango is not on the radar screen of too many Coues deer hunters who end up in neighboring states like Sonora and Chihuahua.
I am proud to offer this exclusive 55,000 acre estancia 1.5 hours from the capital city of Durango. This operation has an owner who cares about his land and the wildlife on it.
Clients stay at the main ranch house with full beds, linen, catered meals, satellite TV and other activities. Modern rifles and shotguns are already on the ranch so you do not have to go to the trouble of getting permits.
This beautiful property exceeds 8,000 feet in elevation and offers diverse terrain. Hunts are conducted from trucks and/or on foot. Trophy quality on this ranch for deer and turkey is superb. Kids get 25% off. Ask about specials.
Hunt Prices:
5 day Coues hunts are $3000 with a $1500 kill fee.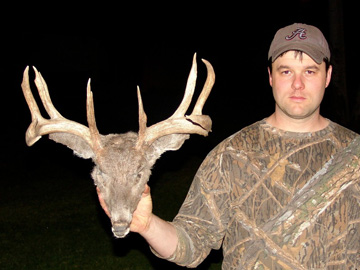 All inclusive 3 day Goulds turkey are $2700, second bird $750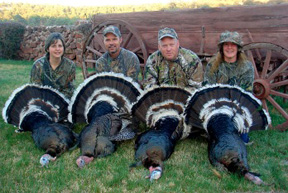 Javelina trophy fee $350
Puma/Bobcat: Upon request and if permitted
Hunters fly to Durango City and will be picked up by the ranch staff and returned there after the hunt. Facilities allow for capes to be frozen so trophies will go home with the client. Turkey clients need to have an export letter from a USDA approved taxidermist. This is a very simple process for those of you bringing birds home.