Hunt # 39 - Maine Estate Red Stags and Fallow deer
For those of you wanting to find quality red stags without the travel to far away places, this hunt might just be of interest to you.  Located only a 4 hour drive from Boston and 25 miles from the Bangor, Maine airport this private hunting preserve offers a great value for all budgets.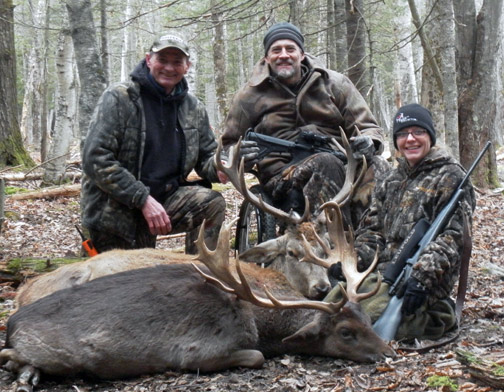 From meat hunts to trophy stags this operation has some of the better red stags in the USA. Hunts are offered from August through January. The area is approximately 1,000 acres in size and hunts are conducted from blinds or spot and stalk.

Archers, hand-gunners, black powder as well as conventional rifle hunters are all welcome. Hunt prices listed do not include food or lodging. Lodging can be up to you. There are local areas to camp, motels, vacation cottages and an upscale cabin that is approximately $200 per night and costs can be shared among your party. The hunts themselves are slotted for 3 days on trophy hunts and day hunts for meat animals. If you enjoy venison these red deer offer some great steaks at an excellent price.
This is a nice venue for families, couples and for those of you looking for nice trophies as well. Red Stags and Fallow deer are abundant on this property.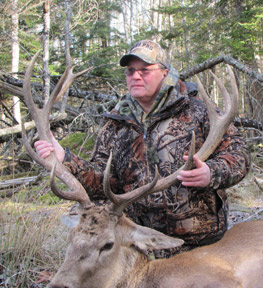 Hunt Prices:
Red deer hinds $700/ Non-trophy bulls $1500

Trophy Stags 300-320SCI $5500-$6500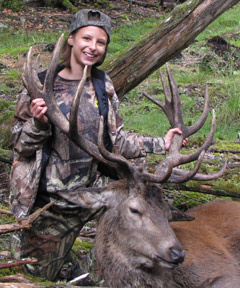 Trophy Stags 266-299 SCI $4000

Trophy Stags 235-265 SCI $3000

Trophy Stags 12-14 points under 235 SCI are $2500

Trophy Fallow Bucks $2500

Price other hunts around. Then compare the trophy quality of the stags when doing so. You will soon see if you are in the market for this type of hunt this ranch has a great deal to offer close to home.

*Maine licenses are not required