Hunt # 38 - Alberta Baited Black Bear Specialist, Whitetails and Economical Moose
This outfitter is located not far from the Edmonton area and offers hunting for some of the best baited black bears anywhere. Both spring and fall he consistently produces big color phase bears. He also has 2 archery moose allocations, 2 archery whitetail allocations, 8 late season whitetail rifle permits and 4 late rifle moose permits. This is a small outfitter you will not find listed on the web.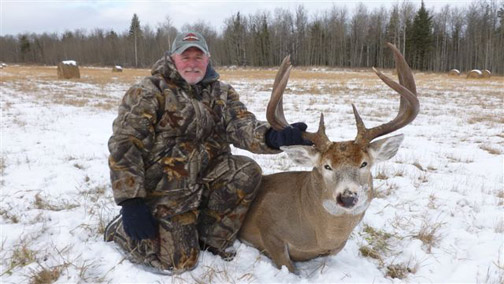 These are high quality hunts personally overseen and/or guided by the outfitter. Most of his business comes from my referrals and his many repeat clients. The whitetails in this area are nothing short of huge, with big bucks taken each year. The moose quality is quite good and not difficult. Expect moose 30-40 inches while hunting mostly shelter belts, some woodlands and a great deal of farming country.

It is possible to combine species like deer and moose or even deer, moose and bear on some hunts due to long seasons. I recommend early bookings with this outfitter as he has few allocations and high demand. This is a 2-bear area and quoted prices reflect that. *Licenses and tax are extra on this hunt.
If you want a quiet, out of the way hunt with a small family outfitter as your host you will enjoy this place. You will be pleasantly surprised at what you find.