Hunt 37 - New Mexico Mixed Bag, West Texas Carmen Mountain Whitetails and More
This outfitter has been providing some of the best hunts in the region for almost 30 years. He has hosted many well known outdoor personalities withstanding the greatest test of any outfitter; time. In order to stay in business as many years as he has this outfitter understands what it takes to provide quality hunts with an emphasis on taking care of the customer along the way.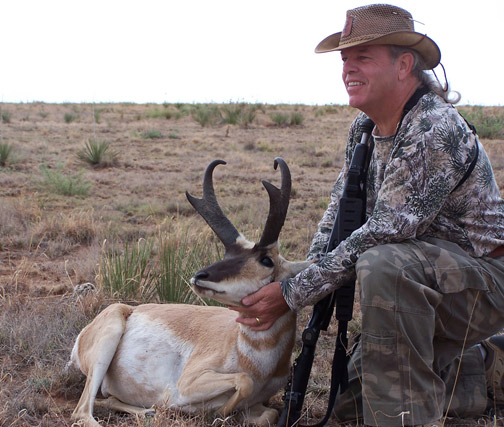 There are not too many hunts this outfitter doesn't offer when it comes to available species in New Mexico and Texas. From Elk and Antelope to Free Range Aoudads, turkeys, mountain lions, and the rare Carmen Mountain Whitetail Deer.

All hunts are fully guided with various forms of lodging, good meals and quality private land leases. Other hunts like Elk take place on both private and public lands in New Mexico. He has access to draw units and landowner permits.

He also has a unique hunt involving primitive weapons and offers high success on these types of hunts. Just when one thinks they have exhausted all of the hunting he can offer throw in free range Oryx, Texas Estate Exotics, mountain lions and Ibex.  **New Mexico Draw Deadline April 28th**
This is an excellent venue for families and a group of friends. Give this one strong consideration.
Hunt Prices: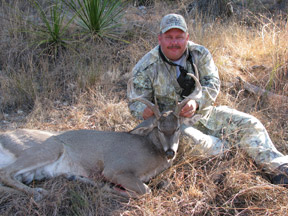 New Mexico Mule deer Rifle pr Muzzleloader $4250,
Archery $2950

Carmen Mountain Whitetails $4500/
Texas Mule deer $4500/Combined with Javelina and Aoudad

Elk with landowner tags $7700, Draw $3950 all weapons  

New Mexico Rifle Antelope $2950-$3150, Archery $2250, plus $500 harvest fee,
Impaired Hunter $2750

Merriams Turkey $1250, 2nd bird add $300

Rio Grande Turkey $1000, 2nd bird add $200

Mountain Lion West Texas and New Mexico $4500

Javelina $750, $150 2nd pig . 3 hunters minimum 

Free Range Aoudad $3950

Estate Exotic Hunts for: Addax, Oryx, Aoudad, Blackbuck, Bison, Fallow, Axis and more: Inquire
This is an excellent venue for families and a group of friends. Give this one strong consideration.