Hunt 36 - Australia: Water Buffalo, Banteng and Estate Exotics
This Australian professional hunter has a proven track record of producing some of the largest water buffalo in the country. These bulls are entirely free-range and average between 95-110 SCI points. These Northern Territories hunts are mostly based out of Darwin.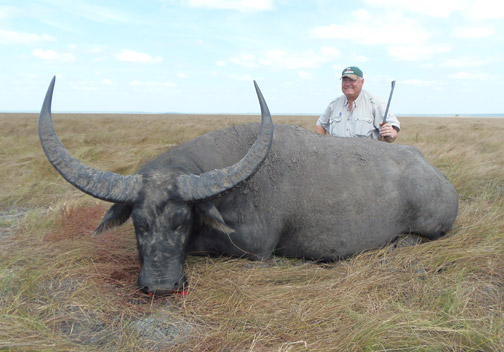 Your host runs an organized and solid operation. This is not a fancy hunt by any stretch. Rifles are available for your hunt as Australian gun laws are increasingly difficult. This outfitter has just recently started offering Banteng hunts on a regular basis as well. In addition to the northern hunts he also offers exotic game hunting on a 300,000 acre sheep station near Adelaide. Hunts for Rusa, Sambar, Hog Deer and more are now offered and can be combined with the buffalo and/or Banteng after the northern region hunt. *Best time to hunt Buffalo & Banteng is the Dry Season June - Sept
Price includes Trophy Fees, accommodation, meals, guides & Air Flights from Darwin to hunting camp/return (approx $1500).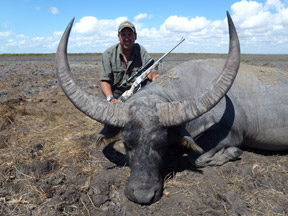 Hunt Prices:
5 day Buffalo hunt in remote Arnhem Land, Northern Territory, 100% success.
2012 Bulls averaged 106 SCI 1x1 $10,500, 2x1 $9,500

8 day 1x1 Buffalo & Banteng combo hunt, $21,500

3 day Banteng Hunt $14,000

5 day Buffalo cull hunt for 20 animals and 1 trophy Bull $16,500

Trophy Buffalo cow $1,200

Trophy Boar $500

5 day Outback Camel Safari in Alice Springs, with 3 days hunting, includes 10 animals $8,000
Price includes Trophy Fees, accommodation, meals, guide, pick up Alice Springs airport/ return, extra animals taken $500 per animal

GAME RANCH PRICES/ DAILY RATE: $500 per day per hunter/$400 2x1, Non-hunter $150 per day
 Javan Rusa $3,500, Moluccan Rusa $3500, Elk $6,500
Fallow $3,500 Hog Deer $6,000
Sambar $5,500 Axis Deer $3,500, Rams $850
Red Stag $5,000 - Gold Medal $8,500 Goat $850,
*All prices include meals, accommodation, guide, trophy preparation. Prices do not include trophy shipping, accommodation before & after hunt or airfares.