Hunt 25-Southern Yukon Dall Sheep
This hunting area has been 100% successful for all customers booked through Cross Hair Consulting in the last decade. It has changed outfitters several times over the years but the sheep hunting continues to remain among some of the finest in the Yukon.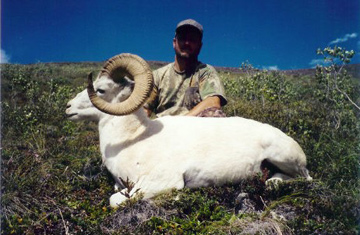 Clients fly into Whitehorse, and then travel by charter to the hunting area. This is predominantly a sheep area with a few permits for moose, caribou and grizzly. Horses are used for transportation and clients are housed in spike cabins located in strategic locales throughout the concession.

Hunts are packages $16,500 for a 9 day sheep hunt, includes all licenses, tags, taxes, royalties. Additional charges are charter flights and overnights in Whitehorse. 
This is a favorite venue for dall sheep. Over the years there have been a number of articles and programs produced about hunts in this region.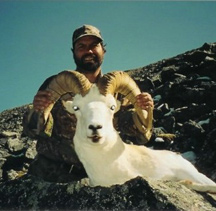 Some Fannin sheep have been appearing in the area, but the majority of the rams harvested are dalls. There are also limited allocations for grizzly, moose and mountain caribou offered here as well.
All hunts are package priced and include licenses, charters, guide services, food, lodging, and trophy care. Black bear, wolf, wolverine and fishing are also included in the cost of your hunt. Not included is Canadian tax, and the government harvest fee on the species you take.
This is clearly one of the best Dall Sheep hunts left in North America. Though not the most inexpensive, the package hunt is quite reasonable for today's market. I highly recommend this hunt for veteran sheep hunters and first -timers alike.
Hunt Prices:
8 day 1x1 Dall Sheep $12,000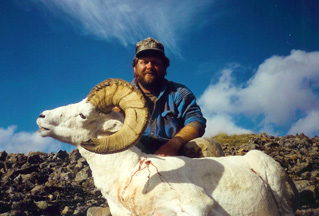 10 day 1x1 Moose $10,000, Dall Sheep $3500 harvest fee (Limited)
8 day Late Season Dall Sheep Rut Hunt 1x1 $5000 plus a $3500 Harvest fee upon success. (Limited)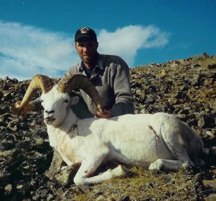 Additional Harvest Fees:
Mountain Caribou $2500 (By arrangement)
Grizzly Bear (male) $ 3500
Grizzly Bear (female) $ 5000