Hunt #21 Central California Blacktails, Free Range Exotics, Hogs and More
Here is a great venue that offers clients multiple options and lots of fun. This outfitter has access to over 85,000 free range acres east of Paso Robles, California. On these ranches he offers hunting for native species like Blacktail deer and Tule Elk.

This part of California is famous for feral hog hunting and they are abundant. Plus, this outfitter offers the unique chance at free range exotics like American Bison, Yak, Water Buffalo, Watusi, Texas Dall, Barbado, and Catalinas. The exotic species require no license and are open throughout the year.

With the ranch centrally located between Los Angeles and the San Francisco Bay area you have many choices when it comes to travel.

Lodging is provided on some hunts RV parking and camp sites are also offered, or hunters can locate motels in Paso Robles to do day or short duration trips. This outfitter does a great job taking care of your trophies and your meat. A local processor in Paso Robles does some of the best wild game work I have ever seen.

This hunting area is in California Deer Zone A with over the counter tags. Hogs are open throughout the year as well. Turkey, and other upland birds like dove and Valley Quail are abundant.    

This outfitter really has something for everyone and it is a favorite place of mine to hunt near home.
Hunt Prices:
Blacktail Deer $3000-$3500
Tule Elk $7500-$18,000
Hog Hunts $700
Turkey $750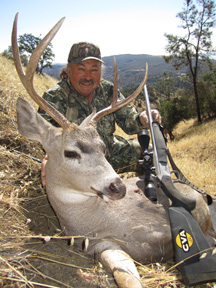 Upland Birds/Varmints $200 per day
Exotics: Bison $1875-$5000, Water Buffalo $1875-$5000, Yak $1500-$2900, Rams $500-$750, European Boar $1000 & up, Watusi $1200 and up

Combo specials: 2 exotics rams, Bison & pig $3100, Bison/pig $2400, Bison/Exotic Ram $2200, Youth Ram $400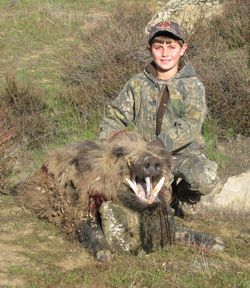 Cow Elk Hunts
3 day Hunts $2000
(Licenses by Drawing Only)
Controlled Hunts
3 day Elk $6500 and up
3 day Mule Deer $6000 + trophy fees

3 day Fallow Deer $3500