Hunt 16 Roseburg Oregon Columbia Whitetail, Blacktails and Roosevelt Elk, Private land
This outfitter has access to some of the finest private land open to hunt for the rare and beautiful Columbia Whitetail. These hunts are offered for both archers and firearm hunters without having to draw a permit. Though licenses are limited this hunt is a great opportunity for those died in the wool deer fanatics who want to make this whitetail subspecies part of their hunting memories.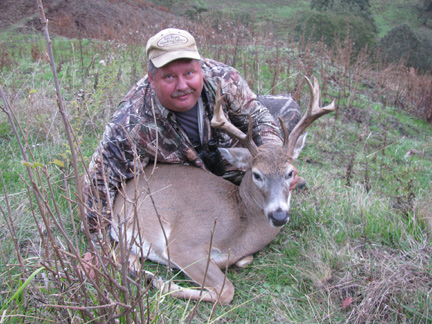 In addition to Columbia Whitetails these ranches also harbor trophy Columbia Blacktails. These hunts are high success and well worth going on. The outfitter does a great job and is developing a reputation for quality among those who have hunted with him.
Normally each year he also has access to 1-2 archery only Roosevelt Elk tags near Gold Beach, Oregon.  These hunts are for trophy bulls and far less expensive than some of the alternatives out there.
Hunts are usually 4 days in duration and booked for 2x1 service. At times he may offer self-guided or semi-guided hunts as well.
This is a favorite place to get away and enjoy some of the finest hunting in the Pacific Northwest. Air service to Medford, Oregon makes this hunt accessible, without excessive travel.