Hunt 15 - Eastern Cape - South Africa
Kei River Hunting Safaris offer a selection of fine Trophy Hunting Safaris.

It might not seem obvious at first, but hunting safaris play a vital role in the conservation of every African species. With grasslands taken up by farming and the reduction of large predators, carefully controlled hunting practices control populations and provide vital support to local economies. Regulations are strict, and there are only specific locations and times when certain animals can be hunted. Tracking in the African bush with only your rifle and your wits is the dream of many, and Kei River Hunting Safaris will not disappoint you.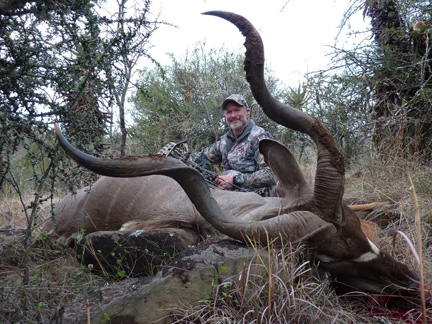 Whatever your choice, our meticulous, "Attention to Detail" policy is applied, ensuring that the wishes of our client are paramount in the planning of his or her individual Safari.
The reputation of Kei River Hunting Safaris for providing quality trophy hunts, specially tailored to the requirements of each and every client, is second to none and is respected throughout the industry. As a result, our client is almost guaranteed the opportunity at those sought after trophies.
Kei River Hunting Safaris offer thirty-five species of game animals, so packages can be tailored to suit the most demanding of client requirements.
During your hunt, you will be accompanied by one of our friendly, knowledgeable and fully qualified Professional Hunters (P.H.). Your P.H. will be dedicated to guiding you through a successful hunt, while ensuring your comfort and safety throughout your stay with Kei River Hunting safaris. Your P.H. will be pleased to assist you as he may.
Our P.H.s are qualified to hunt "The Big Five" (Elephant, Rhino, Buffalo, Lion and Leopard) and other dangerous game. Should this type of safari be the one for you, we will be happy to discuss selecting suitable dates which is right for you.
Booking with Kei River Hunting Safaris, you can be assured that your time and effort will be expended in the chase and not in the planning of the hunt.
Assistance in all aspects of preparation, including advice on bringing your personal rifles and ammunition for use on your hunt, is available and the necessary documentation package to obtain a temporary import permit for your rifle(s) on your arrival in South Africa, will be provided to you by Kei River Hunting Safaris . Advice on suitable calibres and ammunition types is also available from both Kei River Hunting Safaris .
Kei River Hunting Safaris is dedicated to the most strictly ethical hunting, the normal pattern of which is "Walk and Stalk". Bow hunting is carried out in Still and Hide form. Some species like bushpig are baited and / or hunted with well trained hounds. Some excellent wing shooting is available on request.
Notwithstanding the above, we are pleased to welcome clients with special requirements that are dictated by health or circumstance and we will make every effort to accommodate their hunt and ensure their stay with us is comfortable and enjoyable.
Renton's Lodge, decorated in rustic South African style, provides warm, comfortable accommodation with lots of bushveld atmosphere. After the hunt and a relaxing hot shower, our well stocked bar provides a friendly venue for our guests, P.H.s and the Renton family to enjoy hearing the tales of the day's hunt.
Soon it will be time for the evening meal, when excellent food (and plenty of it), accompanied by a wide selection of our fine South African wines, beers, spirits and soft drinks, is served.
Non Hunting guests and families are very welcome.
South Africa Trophy Fees and Species List
BABOON -

200

REEDBUCK -MOUNTAIN

500

BLACK BACKED JACKAL

200

ROAN –SOUTHERN

12500

BLESBUCK-COMMON

450

SABLE

11000

BLESBUCK-WHITE

700

SCIMINTAR ORYX

POR

SPRINGBUCK-BLACK

800

BUSHBUCK-CAPE

850

SPRINGBUCK-COMMON

450

BUSHPIG - BAITED

1100

SPRINGBUCK-COPPER

2200

SPRINGBUCK-KALAHARI

650

CARACAL/LYNX with hounds

1100

SPRINGBUCK -WHITE

1100

DUIKER-BLUE

1500

STEENBUCK

450

DUIKER-GREY

350

SUNI

POR

DUIKER-RED

1500

TSESSEBE

POR

ELAND-CAPE

2500

VAAL RHEBUCK

1500

GEMSBUCK/ORYX

1300

VAAL RHEBUCK (DRAKENSBERG,WESTERN CAPE)

2500

GENET-LESSER SPOTTED

250

WARTHOG

450

GIRAFFE

3700

WARTHOG MANAGEMENT

200

GRYSBUCK-CAPE

POR

WATERBUCK

2500

HYENA-BROWN

POR

WILDEBEEST-BLACK

1100

IMPALA-SOUTHERN

450

WILDEBEEST-BLUE

1100

KLIPSPRINGER

3000

ZEBRA-BURCHELLS

1500

KUDU- EASTERN CAPE UNDER 50 INCHES

1300

ZEBRA- HARTMANNS SA

4000

KUDU- EASTERN CAPE OVER 50 INCHES

1750

DANGEROUS GAME

KUDU- SOUTHERN GREATER - LIMPOPO

2000

BUFFALO  BULL DISEASE FREE
(EASTERN CAPE)

16500

KUDU- SOUTHERN GREATER (E/CAPE)


3000

BUFFALO BULL  -RED ZONE
TIMBERVATI

15000
22000

LECHWE –SOUTH AFRICAN

3000

RHINO-HUNTED

POR

NYALA

2500

RHINO – GREEN HUNT

10000

ORIBI

3000

CROC – SA 12-14 FEET

POR

OSTRIDGE

500

HIPPO

8500

PORCUPINE

250

LION MALE

POR

REEDBUCK-COMMON

1200

LIONESS

9000
 DAY RATES
| | | | | |
| --- | --- | --- | --- | --- |
| TROPHY 1X1-450 | TROPHY 2X1-400 | OBSERVER-250 | KIDS-150 | |
PRICES CAN CHANGE WITHOUT PRIOR NOTICE .PLEASE ASK FOR CURRENT PRICES WHEN ENQUIRING
NO CHARGE FOR AIRPORT PICKUP,ONLY 45 MINUTES DRIVE
MEET AND GREET AND PRE APPROVED PERMITS $130
DAILY RATE IS INCLUSIVE OF 14 % VAT.