Hunt 13 - Tri-State Outfitter Eastern Wyoming, South Dakota, Nebraska
Located in the areas of Rapid City South Dakota, Newcastle Wyoming and Chadron Nebraska this outfitter literally offers something for everyone. From Prairie dogs to Pronghorns he offers great hunting values for the dollar with an emphasis on family and ethical fair-chase hunting.
In the Newcastle Wyoming area we have lodge based hunts for antelope and deer, as well as spring turkey and winter getaways for snowmobiling and such. These are easy to draw (100% draw) hunts offering nice game and high success rates. Hunters have private rooms, great meals and well organized hunts on private land leased throughout the area.
In South Dakota we offer private land hunts in the West River area for mule deer and/or whitetail deer. These hunts are motel based but include meals and lodging in the price. Turkey hunts can also be based here.
In Nebraska November rifle deer and December muzzleloader deer hunts are offered on private lands in the region. These hunts are also motel based.
In the spring we can offer tri-state turkey hunts, as well as prairie dog hunting.
Bison hunts are offered in South Dakota and include 2 days of meals and lodging plus your game.
This outfitter offers a great way for families to go hunting and we applaud him for his generosity. Children accompanying an adult 14 and under hunt for free and those over 14 and up to 18 years hunt for ½ price. No one else I know of makes this offer on all hunts.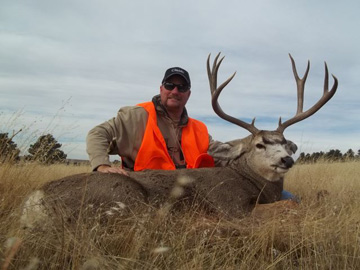 I had the opportunity to hunt with this outfitter recently and found a well run, exceptionally organized operation that offered what it advertised. I recommend the early pronghorn hunts and the November combo hunts in Wyoming. This is a fun hunt run by friendly people with good private land leases.
Though not known for large trophy antelope, my hunting partner took a book buck on the first day of our October combo hunt. Later in the day he took a nice 3x3 mule deer and I shot a 120 class 10 point whitetail. On day three I took a 13.5 inch pronghorn buck after passing on many others.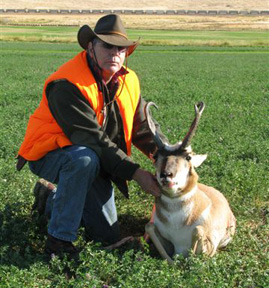 Wyoming Hunt Prices:
3 day Antelope $1700 2x1
4 day Deer (Whitetail or Mule Deer) $2295 2x1
5 day combo Deer/Antelope $2795 2x1
3 day guided Turkey $1395, 3 day DIY $795
Nebraska Hunt Prices:
3 day rifle deer $1950 (Whitetail or Mule Deer)
5 day rifle deer $2250
3 and 5 day muzzleloader hunts I December are the same price
DIY Turkey 4 days $700
South Dakota Hunt Prices:
3 day deer $1995
3 days Merriam turkey guided $1200 2x1, DIY $700 per person
2 day Bison $3750 plus tax, trophy bulls, $3250 plus tax, adult bulls, $2200 plus tax, meat animals
3 day wild pheasants $1350 package in Aberdeen, SD.
*Prairie Dog Hunts $250 per day with meals and lodging on private land